The Wisdom Tree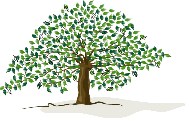 ®

Just as the cautious businessman avoids investing all his capital in one concern,
so wisdom would probably admonish us also not to anticipate
all our happiness from one quarter alone.


--Sigmund Freud


in-for-ma-tion n. A random collection of material.


knowl-edge n. Awareness or understanding gained through experience or study.


wis-dom n. The ability to apply what has been acquired mentally to the conduct of one's affairs.


For questions or comments about this site: webmaster@thewisdomtree.com

© 1999, 2000 Paula Treat-Snider, all rights reserved